Memorial Day and our flag: A gentle tutorial for us all
Memorial Day and our flag: A gentle tutorial for us all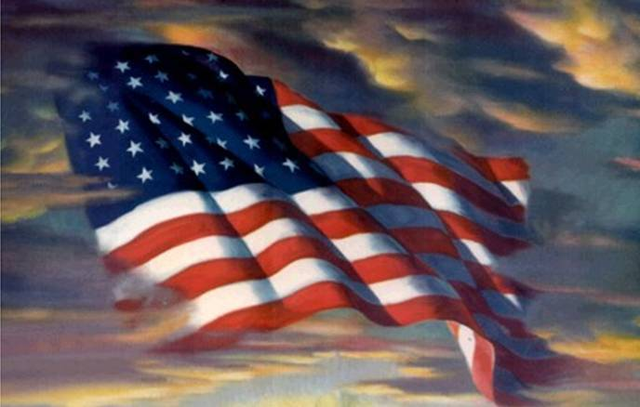 WASHINGTON,
May 27, 2012 –
Memorial Day
is a time for remembering the men and women who died for their Country since the Revolutionary War. Remembering the
approximately 1.3 million
soldiers , not including those missing in action or wounded who paid the ultimate price for freedom and love of country.
The history of this day and its meaning is important to know and remember, lest we forget those who died. We have ceremonies and parades through which are woven the symbols of our pride and patriotism, and our homage to our fallen.
The American Flag plays a prominent role in Memorial Day and all observances of patriotism and fallen soldiers. The flag represents all that these men and woman have died for.
In "Our Flag" Henry Ward Beecher
wrote
:
"Our flag means, then all that our fathers meant in the Revolutionary War; it means all that the Declaration of Independence meant; it means all that the Constitution of our people, organizing for justice, for liberty and for happiness, meant.
Our flag carries American ideas, American history and American feelings … in its glorious insignia, it has gathered and stored chiefly this supreme idea: Divine right of liberty in man.
Every color means liberty; every thread means liberty; every form of star and beam or stripe of light means liberty: not lawlessness, not license; but organized, institutional liberty, - liberty through law, and laws for liberty!"
The flag means something. When we treat it gently and with respect, it is symbolic of the lives laid down for what that flag represents. When or flag is disrespected, as a nation we cringe, even as we understand that the cloth represents our important and unique First Amendment Rights, we bristle when someone chooses to treat "ole' Glory" with disrespect.
When First Lady Michelle Obama had the honor of attending the Pentagon 9/11 ceremony last year, her chatter during the flag ceremony was followed by a smirk that many interpreted as "all this for a flag?" It revealed a lack of respect for America and her FOTUS role.
And it angered many. A search reveals more than 17 million responses. It means something to us.
But where do our Memorial Day traditions comes from?
Memorial Day is our nation honoring that flag and what it represents. With wreath laying ceremonies and parades, we honor the incredible loss and pain felt by the country during the Civil War, after which women began decorating the graves of Union and Confederate soldiers at Arlington National Cemetery.
This practice spread to the other cemeteries where soldiers laid at rest before the war ended. Proclaimed as a day on remembrance in 1868, it didn't become a nationally recognized day of remembrance until after World War I.
The wounds between North and South ran deep. Congress made it a legal holiday in 1971.
President Bill Clinton, in 2000,
declared
a National Moment of Remembrance for Memorial Day. The White House memo said in part, "This memorial observance represents a simple and unifying way to commemorate our history and honor the struggle to protect our freedoms.
Memorial Day represents one day of national awareness and reverence, honoring those Americans who died while defending our Nation and its values."
Some may remember childhood days when Veterans of Foreign Wars would hand out small red paper poppies , assembled by disabled and needy veterans, to be worn in remembrance.
Since 1923, the money raised from those little poppies helps veterans in need. They are still available through the
VFW Buddy Poppy program.
The idea of wearing a red poppy on Memorial Day originated with Moina Michael in 1915, inspired by John McCrae's poem
In Flanders Fields
,
Lieutenant Colonel John McCrae, MD (1872-1918), Canadian Army:
IN FLANDERS FIELD
In Flanders Fields the poppies blow
Between the crosses row on row;
That mark our place; and in the sky
The larks, still bravely singing, fly
Scarce heard amid the guns below.
We are the Dead. Short days ago
We lived, felt dawn, saw sunset glow,
Loved and were loved, and now we lie
In Flanders fields
Take up our quarrel with the foe:
To you from failing hands we
The torch; be yours to hold it high
If ye break faith with us who die
We shall not sleep, though poppies grow
In Flanders fields
According to the flag code of honor, the flag should be displayed at half staff as a sign of mourning until noon and at full staff from noon to sunset on MAt military cemeteries, like Arlington National Cemetery,an American flag is placed on every single grave.
The traditional time to visit cemeteries or war memorials is at 3PM local time on Memorial Day, which is Monday.
Taps has come to symbolize remembrance of a soldier gone to rest:
"Day is done, gone the sun, from the hills, from the lake, from the skies.
All is well, safely rest, God is nigh.
Go to sleep, peaceful sleep, may the soldier or sailor, God keep.
On the land or the deep, safe in sleep.
Love, good night, must thou go, when the day, and the night
Need thee so? All is well. Speedeth all to their rest.
Fades the light; and afar goeth day, And the stars shineth bright,
Fare thee well; day has gone, night is on.
Thanks and praise, for our days, 'neath the sun,
Neath the stars, 'Neath the sky, As we go,This we know,
God is nigh."
The American's Creed was written by William Tyler Page in 1918 in response to a contest.
"I believe in the United States of America as a Government of the people by the people, for the people, whose just powers are derived from the consent of the governed; a democracy in a Republic; a sovereign Nation of many sovereign States; a perfect Union, one and inseparable; established upon those principles of freedom, equality, justice, and humanity for which American patriots sacrificed their lives and fortunes.
I therefore believe it is my duty to my Country to love it; to support its Constitution; to obey its laws; to respect its flag, and to defend it against all enemies."
All the great things are simple, and many can be expressed in a single word: freedom, justice, honor, duty, mercy, hope." - Winston Churchill